Assoc. Prof. Anna SANIUK, Ph.D.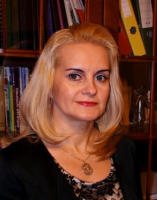 University of Zielona Gora, Zielona Gora, Poland, EU
Associate Professor Ing. Anna Saniuk, Ph.D. is employed at the Institute of Computer Science and Production Management, Faculty of Mechanical Engineering, University of Zielona Góra, Poland, EU. She was a head of Department of Finance and Accounting at the Western Undergraduate School of Business Economics in Zielona Góra. She has been working as a lecturer since 1997.
She received her Ph.D. degree in Economics and Management from the Lodz University of Technology, Poland, EU (2004) and her Associate Professor degree in Production Engineering from the Slovak University of Technology in Bratislava, Slovakia EU (2015).
Research interests
Her research interests span both management and production engineering. She is particularly interested in the areas of: measurement and assessment of business processes, economics and financial management of metallurgical enterprises, effectiveness measurement and development in metallurgy, advanced cost measurement systems and cost management strategies. She has made an important contribution to the development of planning methods and techniques of production orders and cost management strategies in SME's.
She has taken part in many national and international scientific projects, didactic projects and implementation projects in industry. The most significant of them have been Standard Grant Projects of the International Visegrad Fund realized with universities from Czech Republic, Slovakia and Hungary. She has made an important contribution to the development of planning methods and techniques of production orders and for estimation and cost accounting in industrial manufacturing especially in SME's.
Publications
She is an author or co-author of over 120 scientific manuscripts including monographs, papers in peer-reviewed journals and proceedings indexed in Web of Science and Scopus, along with book chapters published in Poland, the Czech Republic, Great Britain, Slovakia, the USA, Switzerland, Croatia and Romania. She has many citations in the mentioned databases.
Activities
She has been a member of scientific committees of numerous domestic and foreign conferences in the Czech Republic, Spain, Slovakia, Turkey and Italy. She is a member of editorial boards and a reviewer of many international scientific journals in Poland, Slovakia, the USA and also in Asia. She has given numerous invited talks and tutorials.