Ing. Peter MESARČ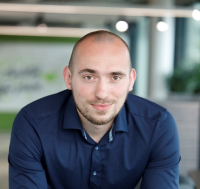 Bolt Market Slovakia, Bratislava, Slovakia, EU

Position: Country manager at Bolt Market Slovakia

At the CLC 2022 Ing. Peter MESARČ will present a plenary lecture "Speed as a Key Element of Competitive Advantage in Logistic Flows".

Peter Mesarč is a young professional in the field of shared and platform economy. With the bachelor and diploma thesis within the same subject he won numerous prices in international students' scientific conferences. He graduated from Technical University in Kosice in 2018. Currently he has position as a Country Manager for new quick commerce project Bolt Market, Vice-president of Mobile Slovakia association and consultant for digital platforms on innovative aggregator walidate.

His areas of expertise are Sharing economy, Circular/Platform economy, Tech-startups, Expansion and launching of new services, Regulatory and Public affairs of new industries.