Prof. Dr. Thomas LIEBETRUTH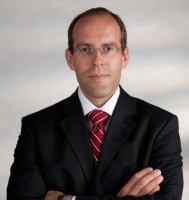 Regensburg University of Applied Sciences, Regensburg, Germany, EU
Thomas Liebetruth (7 October 1975) is Professor for International Business Management with focus on Logistics and Vice Dean of the faculty of Business Studies at the University of Applied Sciences Regensburg (OTH Regensburg). He is also Visiting Professor at the Groupe Sup de Co La Rochelle. His pedagogical and research interests focus on process management in procurement and logistics.
After completion of his degree in 2001 from the faculty of Business Administration of the University of Erlangen-Nuremberg he worked for Roland Berger Strategy Consultants in the Competence Center Operations Strategy. Since 2005 he supported clients to improve their process efficiency in the financial services industry, machinery and automotive industry at Emporias Management Consulting, since 2008 as Partner. By the end of 2009 he was appointed Professor to the University of Applied Sciences in Regensburg. He holds certificates as Business Coach and CBPP (Certified Business Process Professional). His greatest achievements as a consultant were the steering of organizational change and efficiency improvement programs such as restructuring of business units, the management of the implementation of IT platforms or the implementation of supply chain management.
Thomas Liebetruth is member of the German Logistics Association (BVL), the German Procurement Association (BME) and is regional Chairman of the German Society of Organization (GFO) for Eastern Bavaria. He is Author of several Publications and participates regularly in conferences on logistics and process management.