Prof. Ing. Martin STRAKA, Ph.D.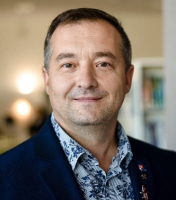 Technical University of Kosice, Kosice, Slovakia, EU
Born on the 5th June 1973
He is an Associate Professor at the Industrial Logistics and Transport Institute, BERG Faculty, Technical University of Košice (Slovak Republic)and Associate Professor at the Faculty of Economics and Management, University of Zielona Góra (Poland).
He has acquired a title ING-PEAD IGIP International Engineering Educator awarded by the International Society for Engineering Education (IGIP - Switzerland).
He is the guarantor of bachelor study, one of guarantors of doctoral study and one of guarantors of habilitation and inauguration process for branch 8.5.1 Logistics in Technical university of Košice.
He is a secretary of the doctoral study board for study program Industrial Logistics in the third degree PhD. at BERG faculty, TU of Košice.
He is executive director of the Slovak Society of Logistics – SSL and member of the Slovak Society for Applied Cybernetics and Informatics – SSAKI.
He is member of the editorial board of the scientific journal Transport and Logistics and member of the Slovak Chamber of logistics Auditors.
His teaching and research activities are focused on the logistics, particularly in the area of ​​distribution logistics, production logistics, and logistics of information, design of logistics systems and modelling and simulation.
He is author and co-author more than 100 publications (monographs, technical journals, reports at conferences and seminars).
He is author and co-author several tens of projects oriented to practice for industrial company.